CMA hosts more than 20 WMO centres, such as the World Meteorological Center, the Global Information System Center, the Center for Extreme Events Monitoring in Asia, etc.
In the sixteenth session of WMO Regional Association for Asia (RA II), February, 2017, the countries of Asian region supported the "Pilot Project to Enhance the Capability of Meteorological Disaster Risk Reduction in Regional Association II (Asia)", which was jointly proposed by CMA and Hong Kong Observatory (HKO). This project establishes the alert hub of WMO Global Multi-Hazard Alert System (for short: GMAS-A). Regional joint monitoring and warning of the meteorological disaster will be developed based on CMA's efforts in FY satellite data and product sharing and application, equipment and technical assistance, NWP, training and service website, to foster political communication, facility connectivity and mutual understanding among the participating countries in meteorological field.
At present, the project has entered the initial implementation stage, which focuses on promoting WMO Global Multi-Hazard Alert System-Asia (GMAS-A). Based on the global center participating in the WMO-sponsored Severe Weather Forecast Demonstration Project for Southeast Asia (SWFDP-SeA), CMA has completed the development of the related website, through which guidance products developed with China's NWP system and FY-2 satellites are officially provided to four Southeast Asian countries. The meteorological video studio offered to Laos helps put its NHMS in a better position to cope with disasters.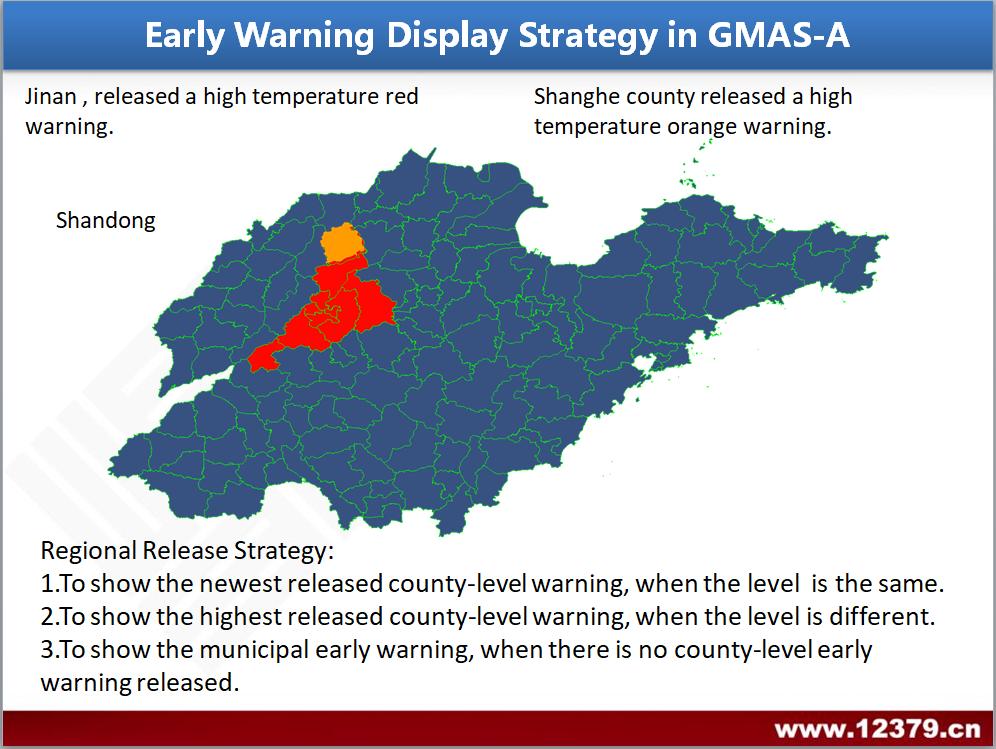 In September, 2018, GMAS-A was connected with China national emergency early warning release system. Visitors can obtain early warning information of all localities of China, as well as countries and territories like Thailand, Myanmar, Kuwait, Russia, and Hong Kong China.
An operator of National Early Warning Information Dissemination Center was making reports during period of epidemic prevention and control.
In face of this year's outbreak of pneumonia caused by the novel coronavirus, China's meteorological departments are utilizing the National Early Warning Information Dissemination System, which is capable of reaching to grassroots communities and rural areas, to release all kinds of authoritative information. In collaboration with related sectors, the National Early Warning Information Dissemination Center and other localities have given full play to the role of early warning information release systems, to use multiple channels such as rural loudspeakers, SMS and new media to disseminate emergency messages, early warning information and scientific protection knowledge.
Editor Hao Jing