Refined meteorological support for tackling the recent cold wave
Source: China Meteorological News Press
Date: 2021/11/11
From November 4, the strongest cold wave process since entering this autumn has affected most portions of China. Meteorological departments of China Meteorological Administration (CMA) have carried out joint coordination and provided all-out forecasting services to tackle the cold wave process.
This cold wave process was coming strong. Pronounced rain, snow, gale and temperature drop have affected Northwest China, Huanghuai Region, and Northeast China. Many regions have witnessed the first snow of this year. During this process, many regions in northern China have experienced the lowest temperature ranging from 10℃ to 14℃. By 8:00 a.m. on November 7, 51 national meteorological stations in regions like Hebei, Shanxi, and Inner Mongolia have seen daily precipitation breaching historical extremes in November. The maximum snow depth registered 26 cm in Mount Wutai and 25 cm in Wei County, Hebei, and 24 cm in Xilingol, Inner Mongolia.
Different departments of CMA has given play to their respective operational advantages, reinforced monitoring, forecasting and early warning services, and provided diversified service products for coping with the cold wave.
The National Meteorological Centre (NMC) has carried out intense consultation, provided up-to-date forecasting, and continued to release warnings of cold wave, snowstorm and gale at sea.
National Satellite Meteorological Center has harnessed Fengyun meteorological satellites to constantly monitor the movement track and development changes of the cold air.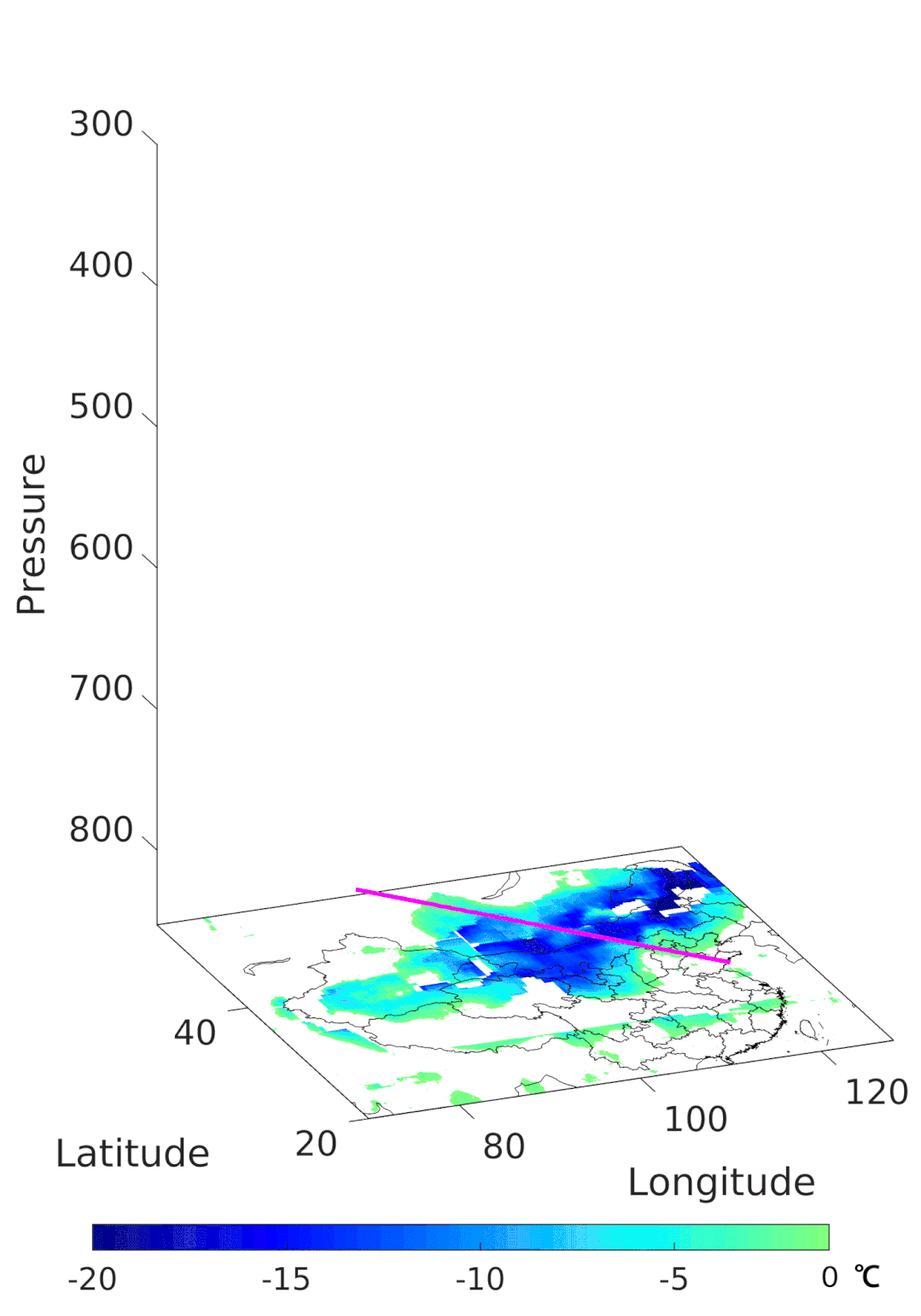 At 8:00 a.m. on November 6, 24-hour temperature change image at multi-layers captured by GIIRS onboard FY-4A satellite
National Meteorological Information Center (NMIC) has released multi-source integrated real-scene analysis products, and kept tabs on the temperature drop, gale, rain and snow during the cold wave weather process. Mulita-factor and multi-source real-scene products have monitored the evolution of the cold wave on a real-time basis.
NMIC released multi-source integrated real-scene analysis products to show temperature drop, rain and snow. 
Meteorological Observation Center (MOC) has consolidated observation, and leveraged systems like Tianheng, and Tianyan system to display 1-hour lowest temperature, 24-hour temperature change, and 12-hour newly added snow depth conditions in the whole country.
MOC harnessed Tianheng and Tianyan systems to showcase 24-hour temperature change, and 12-hour newly added snow depth conditions recorded by national ground stations
CMA Public Meteorological Service Center has issued energy power meteorological forecast for wind power generation and photovoltaic power stations, and ensured the secure operation of the power grid.
Meteorological departments at all localities have taken action to provide refined meteorological services.
From November 6 to 7, the forecasting service team of Zhangjiakou competition venue of the Beijing Winter Olympics seized the opportunity of the snow, carried out precipitation particle observation in the venue, and elevated the forecasting capacity. Photoed and reported by Guo Hong and Wang Xuhai
Meteorological staff was maintaining the blind of the frozen automatic meteorological stations in Hejing County, Xinjiang. Photoed and reported by Liu Qiang and Cheng Hua
Staff from Qinghai County, Hebei was repairing maintaining the wind speed sensor. Photoed by Song Hongyu
Meteorological staff from Zhangqiu district, Jinan, Shandong was braving the snow to repair the electric heating installation of the wind sensor
Observation staff from meteorological office of Hengshan district, Yuling, Shaanxi was measuring the snow depth. Photoed by Zhang Shengmei
Large scale heavy snow battered Holingol, Inner Mongolia. Meteorological staff measured the snow depth. Photoed by Lv Chuang
Chief forecaster from Tianjin Municipal Meteorological Observatory was making forecast and early warning Photoed by Zhang Yan
From November 6 to 7, Chongli district of Zhangjiakou, Hebei saw heavy snow. The snow provided benign conditions for the upcoming test events of the Beijing Winter Olympics. Photoed by Wang Xuhai
From November 7 to 8, snowstorm, heavy snowstorm and blizzard emerged in portions of Jilin. Meteorological departments reinforced snow monitoring and forecasting services. 
In tackling this cold wave process, meteorological departments have provided refined monitoring and forecasting services, consolidated exchanges and consultations with relevant departments like emergency response, and agriculture, given full play to the role of meteorological disaster preparedness, and provided potent support for ensuring people's livelihood. (Nov. 11)
Editor: Liu Shuqiao