Highlights of the WMC-Beijing global severe weather monitoring bulletin
Source: China Meteorological New Press
Date: 2022/05/27
On May 17, World Meteorological Centre Beijing (WMC-BJ) released the first global severe weather monitoring bulletin, providing a summary of global weather conditions, including major severe weather, tropical storms, and outlook. 
Highlights are as following: 
In April, 2022, extreme weather events occurred in many portions of the world. Temperature was exceedingly high in South Asia and Central Asia. India and Pakistan experienced the warmest April on record. Extreme low temperature emerged in many portions of Europe and North America. Northeastern France broke the lowest temperature record in history. South Africa experienced rare extreme heavy rain in 6 decades. Tropical Storm Megi walloped Philippines.
Global weather conditions
In April, 2022, the global temperature cold and warmth difference was evident. Central India registered the highest temperature of 37.8℃. It experienced the warmest April on record within 122 years. Hyderabad in southeastern Pakistan registered the highest temperature of 49.5℃. 
Global average temperature anomaly in April, 2022
In April, 2022, global precipitation was featured by uneven spatial distribution. Portions of Philippines, southeastern South Africa, and Brazil recorded the precipitation of 300-450 mm. According to official figures, KwaZulu-Natal in South Africa experienced the precipitation of over 300 mm within 24 hours, shattering the historical record of precipitation in South Africa. In Europe, portions of France experienced the lowest temperature in April in the region in history. The lowest temperature in Mourmelon in France recorded -9.3℃.
Global cumulative precipitation anomaly in April, 2022
Major severe weather and tropical storms
In April, 2022, North hemisphere was met with severe weather like low temperature and rain and snow, sand and dust storm, gale. Severe convection like tornado was mounting as well.
4 tropical cyclones have generated in the global sea areas. 
Major severe weather events and major relevant weather systems
Severe cold spell in Europe
From April 1-5, cold spell emerged in most portions of Europe,with the lowest temperature below 0℃ in general. The lowest temperature in North Europe and northwestern Russia registered -20~-12℃. Some regions were battered by heavy snow and blizzard.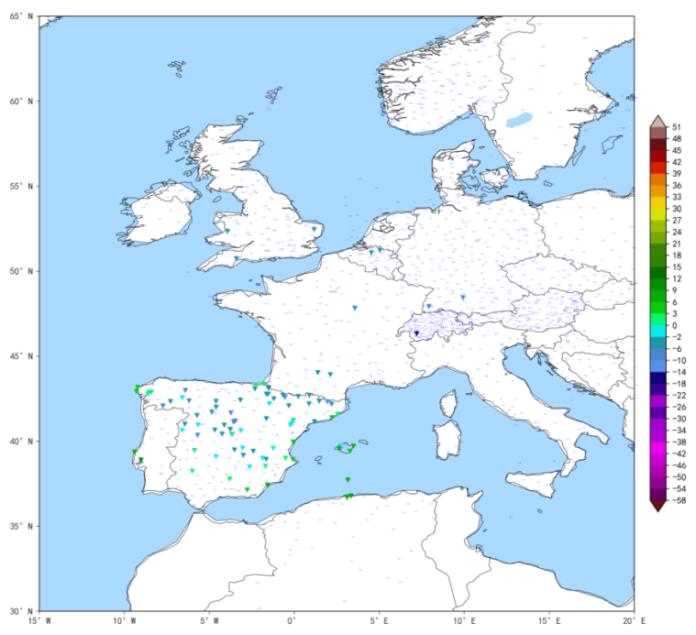 The lowest temperature condition in Europe from March 31 to April 4, 2022
Rare heavy precipitation plagued South Africa
From April 9 to 13, the average cumulative rainfall in KwaZulu-Natal in South Africa was 138.6 mm, about 15 times of that in the same period of normal years. It was the heaviest rainfall in the region since the year of 1980. From April 11 to 12, local precipitation within 24 hours in the region surpassed 300mm, breaking the record over 60 years. Heavy rain in consecutive days triggered grave flooding, damaged power system, and destroyed about 4000 houses.
The strongest heat wave within 122 years in India
In April, India experienced extreme heat wave. According to data released by India Meteorological Department, the average highest temperature in northwestern India and central India was 35.9℃ and 37.78℃ respectively. These two figures have both broken the temperature record over 122 years.、
The high temperature condition in India in April, 2022
Major global weather trend outlook
It is projected that in the coming month, the cumulative precipitation in South Europe, eastern Central Asia, South Africa, Southeast Asia, eastern and southern North America, northern and southwestern South America, and central and southern Africa will reach 80-150mm. The average temperature in eastern Europe, northern Africa, and western North America was 1-3℃ lower than the same period in normal years.
Credits: WMC-BJ
Editor: Liu Shuqiao