What theme is preferred for WMD-2023?
Updated: 22-03-2022
Source: China Meteorological News
March 23, which is actually the anniversary of the World Meteorological Organization (WMO) as well, is celebrated annually as the World Meteorological Day (WMD). On this day every year, meteorologists from all over the world hold celebrations in various ways focusing on a given theme selected by WMO at its Executive Council (EC) session, a practice that got started as early as 1961. WMD is designed to enable the general public of all countries to know better about what WMO does and how the National Meteorological Services (NMSs) contribute to sectors by facilitating the application of meteorology to aviation, navigation, water, agriculture and other human activities.
The WMO theme, which features the annual promotion and publicity campaign, serves to raise the general public's awareness of the importance of meteorology to them one way or another, including their attention, passion and inclination. Each theme focuses on a particular or general issue of meteorological implication as well as human concern and interest. It is thanks to this practice that meteorology has been made so visible and admirable in all walks of life at national level at least in my country of China. Its contribution cannot be overemphasized in terms of information and outreach.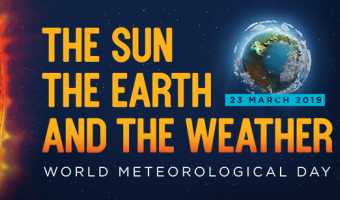 How time flies! So far we have had sixty-one (61) themes altogether, each and every one of which is so striking, distinctive and catchy. "Meteorology" in 1961, "Meteorology and human environment" in 1971, "World Weather Watch as a tool for development" in 1981, "The atmosphere of the living planet earth" in 1991, "Volunteers for Weather, Climate and Water" in 2001, "Man and climate" in 2011, and "Ocean, our climate and weather" in 2021 … Just to name a few. How did they come about? You maybe can't help wondering about. Can we as a general enthusiast be in a position to contribute a recommended and preferred one for WMO EC's consideration? Sure, why not? This article is aimed to satisfy the public curiosity by trying to come up with a candidate for WMD-2023.
To begin with, what is a good WMD theme? A good theme is usually preferred by means of such an indicative 'a straw in the wind' approach that 'one ocean is reflected in one drop of water and one planet is hidden in one grain of sand. That is, you can see the ocean in its entirety from a drop of water and the whole planet from a grain of sand.' How difficult it is! However, a WMD theme is just worked out in this way. The changing community, scenario and backdrop, how do you characterize them? By no means can you go into every detail of them. So a clever move is to farsightedly pick out an emerging development that would matter more than the others in the year to come. The theme of WMD-2010, which reads "60 years of service for your safety and well-being", is a case in point. This is a proper and appropriate theme since 2010 was a year when the international community was working to achieve the United Nations Millennium Development Goals, especially in the areas of human health, food and water security and poverty reduction, to improve its resilience to frequent natural disasters and to help it cope with the increasing impact of climate variability and change proactively. Another exemplary theme is the one for 1973 - "One hundred years of international cooperation in meteorology" since this year marked the 100th anniversary of IMO (International Meteorological Organization), the predecessor of WMO, and the beginning of international cooperation in meteorology, on the occasion of which the WMO-sponsored grand celebration was the first event attended by a meteorological delegation from China, a new Member who resumed its legitimate seat at WMO just the year before. A concise and comprehensive slogan formulated as such does give expression to the long history of the Organization dedicated to working together self-evidently, hence another laudable theme.
As a successor to IMO, WMO dates back to 1873 confidently and proudly, which accounts for the fact that WMD is also known as IMD (International Meteorological Day). The span of one hundred and fifty years (150) ranks WMO among the top two or three most long-standing international organizations in the modern world as a truly time-honored brand. In the course of its eventful existence, WMO has been so instrumental to the human well-being and social progress and development by reshaping the global community with groundbreaking or even epoch-making initiatives and programs such as the World Weather Watch (WWW), the practice of data sharing, the issue of climate change, the paradigm of public-private engagement (PPE) and the Global Multi-Hazard Alert System (GMAS) that it is hailed as a forerunner in the United Nations family. This brilliant record is arguably attributable to the theme-based WMD more or less and more than less.
Looking back, we can't help admiring the greatness of the decision made by the visionary seniors sixty two years ago, while, looking ahead, 2023 will be no doubt a big year for the WMO community by ushering in its 150th anniversary, which by all means deserves another grand celebration with a high-sounding theme that features the Organization historically and culturally.
It is with this in mind that we are inclined to bring forth "Meteorology – Historical and cultural contributor" as the recommended theme for WMD-2023. It appears that the brief and insightful snapshot of the story taken above justifies the preferred candidature adequately. How do you like it, dear readers and followers? Or otherwise, what is your preference? 
Contributed by Victor JIA Ning
Editor: Xu Nenyu