CMACast is the updated satellite data broadcast system of CMA based on DVB-S2 technology with both file and multimedia transmission capability. It is a major component of CMA national and international data dissemination network. CMACast is also a major component of IGDDS and GEONETCast. Additional information of CMACast can be found on CMA WIS Portal.
CMACast Architecture
Features
Entire 36MHz C-band transponder covering Asia and part of south-western Pacific area
Up to 70Mbps data rate at DVB-S2, 8PSK, FEC 5/6
Both data file and multimedia transmission
Separated broadcast channels and directories
User terminal authorization and data encryption
Cost-effective, off-the-shelf DVB-S2 equipment and standard computer
Data and Products
Global surface observing and upper-air sounding data
Numerical weather forecast products
Fengyun series satellite data and derived products
China next generation weather RADAR data and products
Other relevant meteorological products
User Equipment
1.8-2.4 meter C-band receive only antenna and LNB
Standard DVB-S2 receiver with up to 70Mbps IP output
Standard PC or server with SUSE Linux 11.0 32bit
CMACast reception software
USB key for authorization and data decryption
User Registration
Access to CMACast service is subject to an off line registration procedure. Users may access to CMA WIS Portal, click Sign Up icon to download the registration form, fill the form and send it back to download the registration form, fill the form and send it back to GISC Beijing Administrator by fax or email (giscadmin@cma.gov.cn)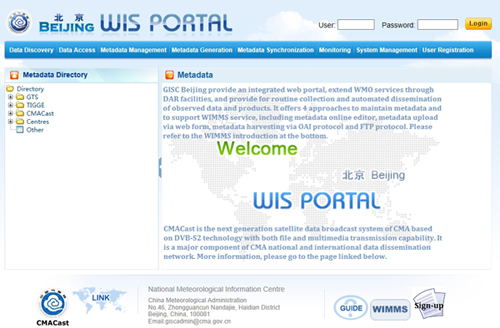 WIS Beijing Portal
GEONETCast Network Centre (GNC) in Asia
GEONETCast is a near real-time, global, environmental information delivery system by which in situ, airborne and space-based observations, products and services from GEOSS are transmitted to users through communication satellites, using a multicast, access-controlled, broadband capability.

Now there are three GEONETCast Network Centres (GNC)in operation which are CMACast, EUMETCast and GEONETCast Americas. With the coordination and cooperation of GNCs, users in any part of the world will be able to get access to a wide resource of global observation data and product easily.
CMACast Documents (download)